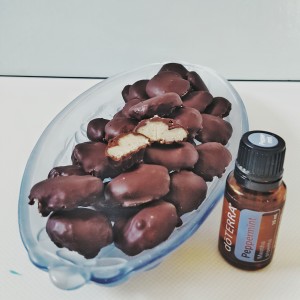 I wanted to make peppermint patties.  Ones like the ones I used to get at the milk bar when I was a kid.  So after hunting around my pantry and the internet, I've come up with this little recipe, influenced by one from  www.ohsheglows.com . Thank you Angela for the inspiration.
I remember as a kid how much I used to love the floaty fudgy texture of Mint Patties.  I wasn't really into peppermint flavour as a kid, but my gosh there really was nothing like that light as air fudginess of that green foil wrapped beauty.  It was the one minty thing I loved.
Ingredient Lists….
But as with so many commercial confections, that texture is created by a concoction of all sorts of 'interesting" ingredients like these:
*Sugar, Glucose Syrup (Wheat), Vegetable Fat (Emulsifier [492]), Milk Solids, Cocoa, Gelatine, Food Acid (Citric Acid), Emulsifiers (Soy Lecithin, 476), Flavourings, Enzyme (Invertase), Salt. Contains 30% Compound Chocolate
Now if I'm going to be honest, I've seen ingredient lists on confectionery that are a lot worse than this, make not mistake about that.   But the fact is, there is not a lot on this list that I can find easily in nature, let alone cook with at home.  And I'm all about eating real food, food that can be produced in a domestic kitchen.  So I set about finding an option that was going to hit the mark as far as taste and texture go.  I won't lie to you, these little babies don't have that fudgy light as air Daryl Lea Nougat Easter Egg texture but I think if I mucked around for a while with some grass fed gelatin and the butterfly (read whipping accessory) on my Thermomix, I might be able to get somewhere with that. Hmmm, I've just given myself a new challenge.  I'll get back to you on that.
Use quality peppermint oil and real food
So until I do some more experimenting……these little guys will not disappoint.  They are flavoured with Peppermint Essential Oil,  sweetened with maple syrup and coated in organic fairtrade chocolate.   I only use the highest quality essential oils in my food and cooking and for that reason, I use doTERRA**  essential oils and have done for some time, because I know they are absolutely safe for consumption and have beautiful therapeutic benefits too.
So here's the recipe.
You'll need, mini cup cake pans/liners like these  . You can use whatever mould you like but I found these easy to manage.  You could probably save them and use them again too.
Makes approximately 40
1 cup raw cashews soaked in filtered water for at least 3 hours (aside from making the nuts healthier and easier to digest, it also makes them easier to blend smooth)

1/2 cup coconut oil, melted

1/2 cup coconut butter

6 tablespoons maple syrup (or to taste)

7 drops doTERRA Peppermint Essential Oil

200 grams organic fair trade dark chocolate
Directions:
Drain cashews well and place in blender/Thermomix along with coconut oil, coconut butter, maple syrup and peppermint oil.
Blend at high speed until cashews have become completely smooth and you have quite a runny paste.  Scrape down during the process as neccessary.
Pour the mixture into individual mini cup cake pans, about 3 – 4 millimetres (1/8 inch) deep and place on a tray in the fridge to set for at least 2 hours.
After the 2 hours or more have passed, melt the chocolate in a double boiler arrangement – I use a bowl set up over a small saucepan of simmering water and ensure that the water doesn't touch the bottom of the bowl (I find this is the easiest method for dipping and clean up purposes- I don't use a microwave but that's up to you).
Lay a piece of greaseproof/baking paper on a flat tray capable of fitting in the fridge
Once the chocolate has melted, take the peppermints from the fridge and one at a time, remove them from their little cases.  As you remove each one, dip it (so it's still nice and chilled) in the chocolate.  With a couple of forks, toss it around until completely coated in chocolate, allow the excess to drain off and then place on a tray lined with greaseproof paper.
Pop the coated chocolates back in the fridge and allow to set.
Eat.
I hope you love these as much as I do.
Love
Ros x
*The actual ingredients in a Nestle Mint Pattie
**If you'd like to know more about beautiful doTERRA Essential Oils, please send me an email.  I'd love to chat.