Same Old Scene, is class and quality all over. Bryan Ferry's influential Roxy Music was formed in the early 70's and had already been through glam rock, dabbled in punk and was entering a stage of New Wave when the album Flesh and Blood came out in 1980 with this song being released as the third single.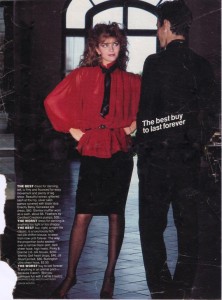 The band's music is often described as sophisticated. There is no doubt that this song oozes class.  Ferry's silky voice over synthesizers  conjure thoughts of swanky night clubs and beautiful people and you can just imagine what it would have been like at the time.  Lots of big shoulders, cinched at the waist, bright red lips and long red finger nails, black patent heels – no, I wasn't there! Really !!
I love this tear out from an early 80's mag editorialising about "The best buys to last forever".  This gorgeous red number was judged one that would go on – " a night- life classic" and a worst buy was "anything in an animal print- because it won't".  Seems like fashion is as hard to predict as the economy!
Bryan has continued to be active in the music scene and has just completed a collaboration with Baz Lurhman on The Great Gatsby with a recording entitled – The Great Gatsby- The Jazz Recordings (A Selection of Yellow Cocktail Music)
Let me know what you think!