What is it with green smoothies at the moment?  They're everywhere.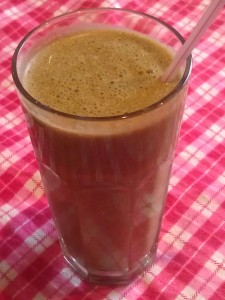 I guess it could have something to do with the fact that you're getting a massive serve of green in one go, it's easier and arguably healthier than cooking up some vegies and depending on how you make it and what you put in it, it can actually taste O.K.  That suggests that some of us don't like vegies as much as we know we should!  Anyway, it's one way of looking at the phenomenon!
So I'm jumping on the bandwagon and adding another green smoothie to all of those out there!  This one has some simple ingredients in it and some not so simple but the thing to remember is that only a few of these ingredients are "non-negotiable".  Oh and it's not so green is it!  It's the cocoa!  But I'll sacrifice style for taste any day!
I think the these ingredients should be in the smoothie:
The egg yolks (provided they are tolerated – otherwise a high quality whey protein powder)  – easier to digest than the whole egg and not as allergenic.  A good amount of animal protein!
The coconut oil is really important too, adding some healthy fats and making you feel full for longer.  Its an energy booster too!
A whole lot of mixed green leaves but you could use lettuce leaves (darker is better), spinach, sorrel, cabbage, beetroot leaves or any other green edible leafy that you have at hand.  Kale is great because it grows so easily especially during the cooler months when nothing much else is around and it's also becoming easier to buy.  I grow kale, parsley and rainbow chard and don't pull out the dandelions so that's all "free" for me.
The fruit is also pretty important if you want to actually like the taste of what you are about to consume. If that's not important to you then more power to you and you are my hero!  But you could use berries – your smoothie won't be so green of course, (frozen will work but be careful of any additives that might be there – frozen berries are not all equal!), oranges, kiwi, pear, really anything you like but don't use too much or you'll be defeating the purpose.
The cocoa also gives it a great chocolatey taste but make sure you use a good quality raw one otherwise all the healthy antioxidants will have been "cooked" out of it!
Ice will help with the texture and I'm not sure about you but I can't handle luke warm smoothie. I am however in search of the ideal "warm smoothie" for winter!
I add a few other bits and pieces because I can, including:
the bee pollen.
AFA or green powder just to give it a bit more green credibility but  really not necessary if you don't have it or don't want to purchase extra.
the maca because it's supposed to be magical and I'm inclined to agree based on recent personal experience. (I'll do a post on maca soon!)
I make mine in my amazing Thermomix but any powerful blender will do the job.
So here's my current daily blend.
Kale leaves – 4 small (good to make sure they are caterpillar free but the extra protein won't hurt you!)
Parsley – 2 stalks worth
Rainbow Chard – 4 small leaves
Dandelion leaves – 4 leaves
1 heaped teaspoon Raw Cocoa
1 tablespoon Coconut Oil
1 teaspoon Maca
1 teaspoon Bee Pollen
1 teaspoon AFA (or a quality green powder)
½ Banana
1 Green Apple
2 x Egg Yolks
200mls water
6 ice cubes
Place in blender or Thermomix and blend for at least one minute.
Enjoy!