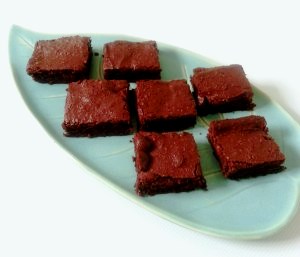 This recipe can be a dessert, a morning tea or can be used as part of a super healthy school lunch.  It contains no nuts and no grains and will provide loads of energy and nutrients to last for hours.  I've made several attempts at a grain free nut free brownie using various combinations of ingredients and this is far and away the best yet.  I'm so happy with it!  I hope you like it too.
Just on the nut issue, I am very fortunate that my daughter doesn't have any allergies.  She is sensitive to artificial colours, flavours and preservatives but has no real allergies and nothing as serious as anaphylaxis.  I can't even begin to imagine what it must be like for parents of children with nut allergies to wave goodbye to their kids in the morning, hoping like mad that their child is not exposed to anything that will cause them to stop breathing during their day at school.  For that reason, I am totally passionate about ensuring that we have loads of nut free , healthy options for our kids to eat during the day when around potential allergy situations.
Having said all that, if you don't want to use these for school or pre-school and you would like to, feel free to add some walnut kernels, macadamias, almonds or any kind of nut you like to the mix at the end.
So here is my version of healthy brownies – grain free nut free brownies!  Not only are they healthy, but they are really yummy and would hold their own at any high brow high tea!  The fact that they are gluten and grain free and contain minimal processed sugar (just whatever is in the chocolate you choose to use) happens to be an added bonus really.  If you need to add a little sugar such as rapadura or coconut sugar – a couple of tablespoons should be plenty, then do it!  I find this is plenty sweet enough though.  Just stay away from the white stuff!
Grain Free Nut Free Chocolate Brownies
(Note, since the original post, I've increased the ingredient quantities to make a thicker brownie)
Ingredients
70 grams tapioca flour (or arrowroot flour) – Thermomix owners – use tapioca pearls to make flour – grind 1min speed 10
200 grams dark (70%) organic chocolate broken up or use chocolate buttons if you prefer
120 grams unsalted butter
130 grams coconut palm sugar (or rapadura sugar)
1/2 teaspoon Himalayan Salt
1 1/2 teaspoon vanilla extract
2 eggs plus 1 egg yolk
60 grams/3 tablespoons coconut flour
Method
Preheat oven to 170 degrees C/350 degrees F
Grease and line a 17cmx 25cm (6 and a half x 10 inch) or 20cm x 20cm (8 x 8 inch) slice tin or glass baking dish with baking paper.  You can use a slightly smaller baking dish if you want your brownie to be thicker.
If using the Thermomix, grind your tapioca pearls and remove to another bowl.
Place broken up chocolate and butter in large bowl on top of gently simmering saucepan and melt gently.  Thermomix – place chocolate and butter in TM and melt 4 mins 50 degrees speed 2.
Cool the chocolate mixture so as not to scramble the eggs. Add eggs plus yolk and whisk together.  Thermomix – add remaining ingredients and mix 20 secs speed 4. Scrape down and mix 5 secs speed 4.  You're done now.  Proceed to point 7
Add remaining ingredients and mix together – a wooden spoon does a great job with this task.
Place in greased and lined pan and bake for 25 minutes (up to 30 minutes if using a smaller dish as your brownies will be thicker).  It should be slightly gooey inside.  Leave in pan to cool.
Remove and slice as desired.
I'm going to work on a Blondie version soon.  Will let you know when I get somewhere with it. Let me know what you think in the comments below. Love